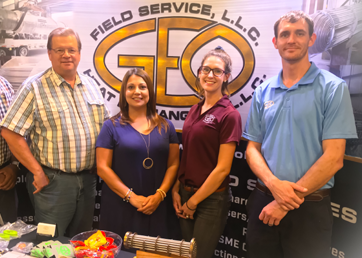 Contact Information
GEO Heat Exchangers, LLC & Field Service, LLC
Office of Human Resources
3650 Cypress Avenue
Saint Gabriel, LA 70776
Phone: 225-642-8900
Fax: 225-642-5487
careers@geoheat.com
Mon - Fri: 7:30a.m. - 4:00p.m.
Greetings and Thank You for Visiting the Department of Human Resources Website
The staff in the Department of Human Resources is committed to providing prompt, courteous and quality to our customers, staff and employees. Our goals are to maintain innovative ways to improve our processes and current systems at GEO. GEO's Human Resources Department's seven main functions of Human Resources are Recruitment, Employee Relations/Retention, Compensation, Payroll & Benefits Planning, Labor Law Compliance, Training/Development and HRIS.
The Individuals we bring to our team come from unique backgrounds and have many different skill sets to offer. From entry level positions to senior leadership roles GEO provides a rewarding and positive workplace environment. Our continued success is dependent on the commitment and contribution of each of our employees. If you are interested in joining our team, please browse our current employment opportunities and fill out the appropriate forms.
GEO is an Equal Opportunity/Affirmative Action Employer and does not discriminate on the basis of race, color, religion, sex, age, disability, marital status, national origin, or veteran's status in employment or provision of services. Inquiries or complaints may be referred to the Office of Human Resources, 3650 Cypress Ave, Saint Gabriel, LA 70776.
Company Benefits

Some benefits include:
Medical
Dental
Vision
Long & Short Term Disability
401k Retirement Plan
Employee Life - Company Paid
Dependent Life
Accident

Employer paid training

We offer a wide variety of paid training to all employees such as leadership, managerial, technical, and more. Training is both on the job and off site professional development.

Career Advancement

We promote from within when possible to let our employees take the next step in their career. We pride ourselves in making sure our employees' life goals are met and to their expectations.
At GEO, we are constantly searching for experienced \ qualified talent. If the position you are seeking
is not listed above, apply for all other positions below.