Tube Plugs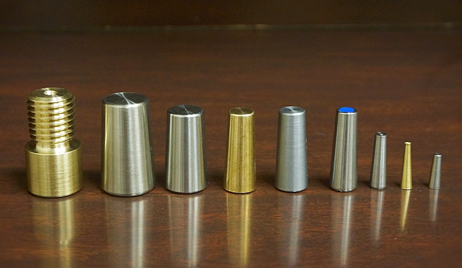 TAPERED HEAT EXCHANGER TUBE PLUGS - 1 3/4" LONG

TUBE
DIAMETER OF PLUG
PRICE PER PLUG
Type
O.D.
Gauge
Sm.End
Lg.End
Steel
316S.S.
Brass
"A"
1"
13-18
.795
.955
6.05
9.60
7.00
"B"
7/8"
1"
14-18
10-12
.705
.705
.865
.865
6.05
6.05
9.60
9.60
7.00
7.00
"C"
3/4"
7/8"
13-18
10-12
.565
.565
.720
.720
4.85
4.85
7.10
7.10
5.25
5.25
"D"
5/8"
3/4"
14-20
11-13
.450
.450
.610
.610
4.85
4.85
7.10
7.10
5.25
5.25
CONTACT US FOR "SPECIAL" ORDERS.

NOTE: Minimum order of $250.00


All plugs listed are carried in stock F.O.B. St. Gabriel. Sizes and material not listed above can be fabricated upon order. The plugs are shipped in boxes which state the size, quantity, and plug material.

G.E.O. tube plugs offer the following features:
Variety of materials: Chrome, Monel, Nickel, inconel, titanium, duplex stainless,copper, aluminum, steel (weldable) and others.
One piece construction
Large choice of sizes
Fast delivery
Easy installation


When ordering, specify size of tube being plugged, gauge, number of pieces, and type of material. G.E.O. Heat Exchangers can also manufacture new bundles, or re-tube your existing equipment on an expedited basis.